You are here
Big C Ninh Binh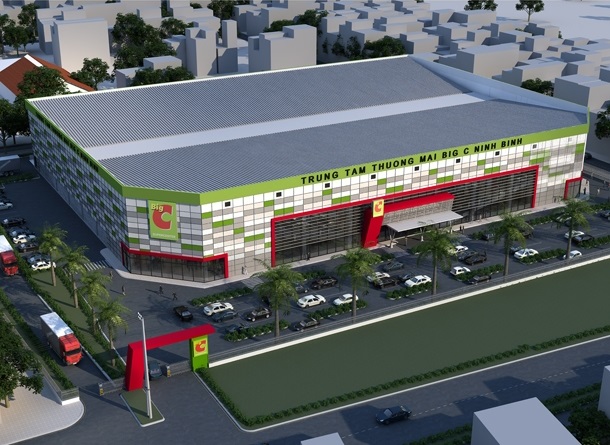 Trade Center Big C Ninh Binh by Property Corporation Vietnam - Japanese construction with total investment capital of VND300 billion. The total floor area of ​​nearly 19,000 m2 with 2 floors structure; including more than 7,000 m2 for trade include buffet supermarket and commercial center, the parking area for free can accommodate about 170 cars and 900 motorcycles.
      The center was built in the model of green business center which adopt green technologies as environmentally friendly system uses 3D wall, roof sound insulation, insulation, lighting systems with fluorescent lamps saving electricity ... Big C Shopping Centre Ninh Binh went into operation will create jobs for about 500 workers directly and indirectly, of which 99% are local employees. Consumers Ninh Binh and neighboring areas have access to plentiful supplies, cheap and the modern distribution service such as free delivery, free bus, installment ... Expected Middle Big C trade center Ninh Binh will be completed and put into operation in the second quarter 2013.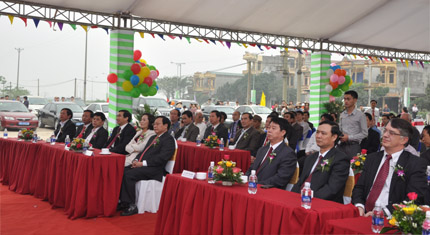 The delegates started construction of Big C Ninh Binh trade center 
    Speaking at the groundbreaking ceremony for Big C Shopping Centre Mr. Dinh Van Ninh Binh Dien, the provincial Standing Deputy Chairman appreciated the efforts of the JSC Real Estate Vietnam - Japan in the process of preparing for groundbreaking ceremony. Comrades emphasized: starting construction business center has great significance politically - Economic - Social celebrate the 20th anniversary of the re-establishment, founded 5 years Ninh Binh city. Building a business center does not contribute to successful implementation of the Resolution of the Party at all levels of socialization enhance investment in infrastructure development and commercial services, but also contribute to create jobs for local workers methods, increase budget revenues and contribute to restructuring the economy towards increasing the share of trade in services. Deputy Chairman requested the departments of provinces, cities and people's Committee in the province continue to concern created favorable conditions for trade center during the construction and operation do business. JSC Vietnam Japanese real estate, consulting units and construction, following a groundbreaking ceremony to concentrate on building the Centre, to ensure safety on schedule soon put into operation effectively.
Other articles